Toronto Maple Leafs: Game Day Headlines vs Devils
The Toronto Maple Leafs will be in New Jersey tonight for a Thursday evening bout with the Devils.
Of course, considering how it's the Leafs we're talking about, there have been a whole host of moves made prior to the 7 PM puck drop.
From call-ups to demotions to returns from injury, let's get you up to speed on everything Leaf-related having gone down since sunrise.
Zach Hyman is Back
After missing the past 8 games with a sprained ankle, Zach Hyman is expected to make his return to the lineup tonight and, according to Daily Faceoff, will be slotting in alongside his usual linemates, Mitch Marner and John Tavares.
The return of Hyman is a welcome one for a Leafs team that has recently dropped 3 of its last 4 games on home ice, including a 4-0 shutout at the hands of the Nashville Predators on Monday.
Not only will Hyman resume his normal puck retrieval duties for his superstar linemates, his presence will hope to inject some life into a struggling Leafs penalty kill. At 79.82% on the season, Toronto's PK rests just slightly below the 79.86% league average.
With 15 points in 32 games, Hyman is stringing together a relatively successful season – one only made more glowing by his 50.4% 5v5 CF/60 and status as a positive Corsi rel player, where he sits at 0.7%.
Hutchinson Gets the Nod…Again
It took all of 2 games for Michael Hutchinson to earn the status of "folk hero" within Leafs Nation.
Suiting up for the Leafs in the first place was a self-described "dream come true" for the Barrie, Ontario native, and that was before he shutout the Vancouver Canucks on home ice. Prior to Monday's bout with the Predators, Hutchinson's name garnered the second loudest reaction among fans during introductions, next to, obviously, Auston Matthews.
Hutchinson was never even supposed to suit up for the Leafs this season. He was acquired simply to alleviate the Marlies' monumental goaltending struggles this season until injuries to both Frederik Andersen AND Garret Sparks thrust him into starting duty.
Frankly, he hasn't wilted under the pressure. In 3 games with the Leafs, Hutchinson owns a .915 save percentage and has largely looked steady despite his unexpected usage. As I mentioned during my sit down with The Athletic's goaltending expert, Cat Silverman, Hutchinson's biggest challenge will be improving his post recovery, which he apparently seems to be doing.
Tonight will mark Hutchinson's 4th start in the Leafs' net. Which brings us to…
Kaskisuo Gets the Call…Again
With Andersen's return being a few days away and Sparks' still remaining undetermined, the Leafs opted to call Kasimir Kaskisuo up from the Toronto Marlies this morning for what feels like the 500th time.
Kaskisuo will serve as the back up for Hutchinson in tonight's meeting with the Devils. And by "back up", I really mean he will sit on the bench in full equipment, wear a hat and, under no circumstances, set foot on the ice during actual game action.
Having Kaskisuo face real NHL-calibre shots is about as close to a doomsday scenario as it gets for the Leafs. The 25-year-old not only owns a dismal .867 save percentage with the Marlies this season, that number actually improved somehow after Kaskisuo allowed 3 goals on 16 shots last night, including this stinker.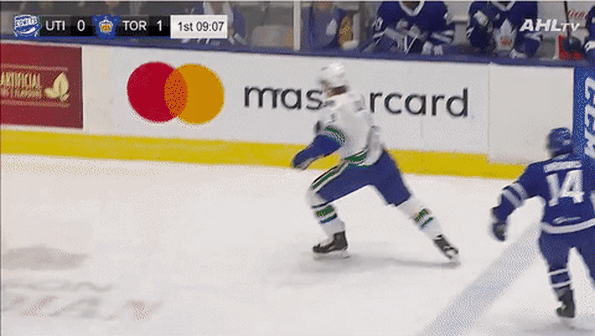 Alas, all NHL teams must have a backup goaltender.
I think it's best that Kaskisuo to handles clipboard duties for the time being.
Trevor Moore Gets Sent Down…Again
With Hyman back in the lineup, Trevor Moore emerged as the odd man out and was shuttled back to the Marlies in an effort to log top line minutes on the farm rather than rot away in the press box.
I mean, would the Leafs ever just keep someone on their roster and not use them? Of course not!
(Someone please make sure Justin Holl is still alive.)
Moore actually suited up for the Marlies last night and wound up chipping in a goal. That marker served as Moore's 18th on the year which, if extrapolated over a full AHL season, would put him on pace to finish with a whopping 47.
Yeah, he's good.
Moore's time with the Leafs probably could not have gone better than it ultimately did, either.
With a sterling 55.7% CF/60 at even strength, the 3 points Moore earned across his 6-game stint actually equal that of Nikita Zaitsev, albeit coming in 36 fewer games. While that may be more of a testament to Zaitsev's complete dearth of offensive production, it's notable nonetheless.
Moore's presence injected life into a listless 4th line and, above all else, proved definitively that he is an NHL-calibre player.
Thanks for reading! Enjoy the game.
All stats courtesy of hockeyreference.com