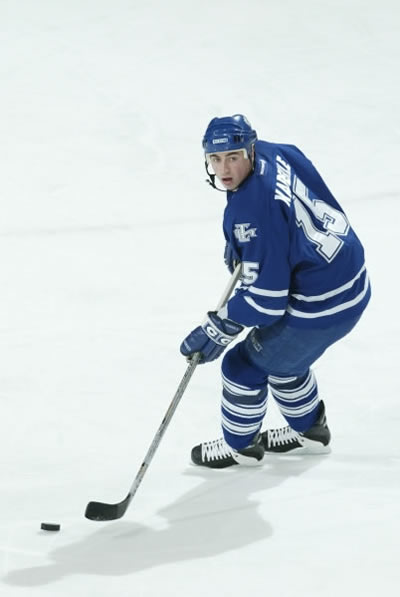 Minutes after completing the blockbuster deals this weekend, Brian Burke informed the hockey world that the Leafs were still open for business, and that he was far from done his overhaul of the Leafs. After dumping Stajan, Hagman and White, Burke doesn't have that many remaining pieces that are going to be in high demand at the deadline.
The priorities on Brian Burke's agenda aren't difficult to determine. Acquiring a first round pick would be the logical primary objective, although nothing he is going to get at this point will likely equal the value of the pick held by the Bruins, barring a late season push by the Leafs to get out of the bottom 5 teams. Since a team can't improve more than four positions in the draft lottery, it would be ideal if the Leafs could scrap their way to the 22rd best record in the league, as that would deny the Bruins a chance to get one of the big 3 at this year's draft: Hall, Seguin or Fowler. In order to reach that mark at this point, the leafs would have to make up ground on Florida, both New York teams, Atlanta, Boston and Columbus. Currently the Leafs are 10 points behind the Rangers, who sit 22nd in the league. That's alot of ground to make up over the next 25 games, but certainly not impossible.
With that in mind, it may make more sense for Burke to pursue some additional offense to supplement his newly formed defense if they seriously wish to make a move in the standings. The problem lies in a serious scarcity of assets that other teams will actually want. Tomas Kaberle is the only piece that Burke can offer that will actually draw the type of premium return that Burke will be looking for, either in the form of a potential first round pick or the top 6 forward (preferably a center for Kessel) that the Leafs so desperately need. With the addition of Phaneuf, Kaberle is assumed to be the odd man out on one of the most expensive bluelines in the NHL. With an open window in his no trade clause during the summer, Kaberle would be wise to submit a list of teams he would be willing to be traded to.
Kind of going the opposite direction here, but Alexei Ponikarovsky is another piece that will almost certainly be moved, before the deadline, probably for a 2nd round pick and/or a decent prospect or two. A potential destinations for the big winger could be Pittsburgh, where he would probably be a really good fit, and there have been rumors that included Poni and the 'Guins. Head Pittsburgh scout Derek Clancey was in attendance at a number of Leaf games in January, but the Penguins have also been rumored to be chasing veteran scorer Ray Whitney, as well, so who knows. I would have thought the Rangers might have had some interest in another scoring winger to go with Gaborik or to fill up their 2nd line, but with the acquisition of Jokinen and their purported interest in Kovalchuk, I doubt Ponikarovsky is high on their list of priorities. Still, as an UFA at the end of the year, his $2.1 million cap hit shouldn't be too much of an issue, especially if Burke makes good on his offers to take on salary cap in exchange for draft picks/prospects.
After this weekend, I'm not even gonna try to get inside Burke's head. I don't think you'll find anyone that can stand up and say "Hey, I called that Phaneuf trade. Yea, I knew that was gonna happen." And, just to keep you on your toes, the hockey rumor mills are reporting a "Mystery Team" in on the Kovalchuk sweepstakes. Supposedly, the Thrashers want a top 4 defenseman, top 6 forward and at least a prospect to get Kovalchuk. I'm sure there are better offers out there, but Kaberle, Poni and (insert Leaf prospect, please God not Kadri) seem to fit that bill. I'm not saying it would be enough to get the deal done, and the mystery team probably isn't the Leafs, but after this weekend's shenanigans, I'm not putting anything past the double B.
Tags: Alexei Ponikarovsky Brian Burke Salary Tomas Kaberle Toronto Maple Leafs Trades