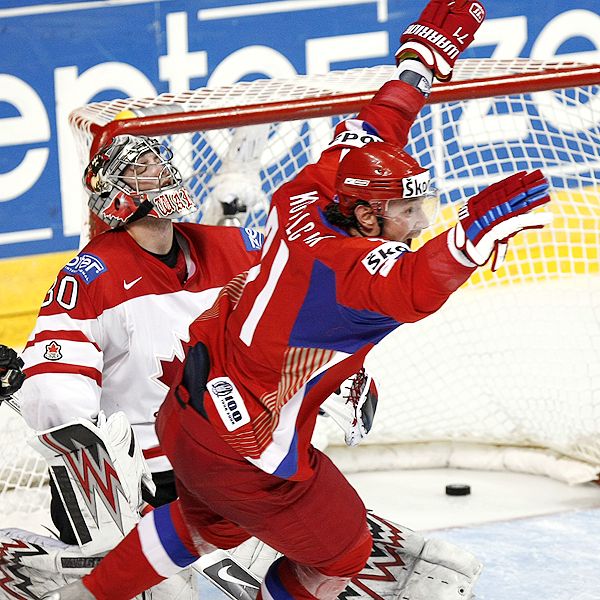 In case you've been living under a rock, Ilya Kovalchuk has been traded. I don't know what the hell he's going to do in the most boring hockey system in the world, but it sure as hell will be interesting. Rangers fans have been placed on suicide watch around the greater NYC area, dreading the combination of Kovalchuk and Brodeur. (that's a plug for some good friends of mine who are foolish enough to cheer for the New York Gaboriks) Naturally, the first team that gets to see how the Devils' new superstar looks in red will be the Leafs. I couldn't think of a better ending to all the hubbub surrounding Kovalchuk's destination than to see him buried under a pile of broken plexiglass with a grinning Dion Phaneuf standing over him. Not to wish anything bad on a player, but you have to admit it would be a little bit humorous, after the weeks of speculation and twitter-watching that has gone on.
The Devils met the Thrashers' demands with an interesting package of players. Johnny Oduya is a reliable defenseman who will fit right in the Thrashers' current lineup. Niclas Bergfors is in the middle of fantastic rookie season, and should have 40 points, impressive considering he plays on one of the least prolific offensive teams in the league. The Thrashers wanted help for the future too, and in addition to Bergfors, Patrice Cormier is a great prospect, currently playing in the QMJHL. Cormier is a solid two way player, with good size (6'2, 205) and a bit of a mean streak (118 pim in 08-09). Throw in the Devils' first round pick this season, which should be in the bottom 3rd of the round, and Atlanta will have gotten three good pieces to add to their franchise.
Lost in all this is Anssi Salmela, who was traded from New Jersey to Atlanta last season in the Niclas Havelid deal. Salmela returns to Jersey after a grand total of 38 games with the Thrashers, and will likely see a good amount of ice time with Oduya gone and Paul Martin out.
It never feels good when your team loses a star player like Kovalchuk, but my hat goes off to the way Don Waddell handled the situation, driving up the price as much as needed, and being smart enough to get the deal done before the Olympics, avoiding any potential injuries to Ilya that could have ended up seriously screwing the Thrashers.
Tags: Atlanta Thrashers Don Waddell Kovalchuk New Jersey Devils