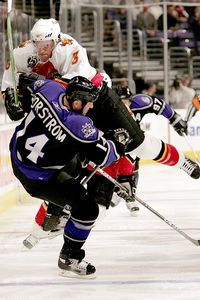 It was speculated that Brian Burke would be very active at this season's trade deadline, and he has not disappointed. Today, Burke has already made two big moves, grabbing monster defenseman Dion Phaneuf from Calgary and keeper JS Giguere from Anaheim.
The Leafs roster will look much different by the next time they take the ice, as Phanuef was brought over in a massive, 7 player deal that saw the Flames get Leaf forwards Matt Stajan, Niklas Hagman, Jamal Mayers and defenseman Ian White. In exchange, Toronto got a superstar defenseman, a solid defensive forward in Fredrik Sjostrom and a promising young physical defender in Keith Aulie.
Burke then cleared more cap space by dumping Jason Blake and The Human Sieve to Anaheim for Jiggy, who lost the starting job to Jonas Hiller this season. Giguere gives the Leafs a much more reliable option in net than Toskala, and should help in the growing process of Jonas Gustavsson, as he has already spent considerable time under Leafs goalie coach Francois Allaire.
That's all for now, but based on the Leafs' press conference earlier today, I'd have to say Burke's far from done.